Hi Everyone:
Just wanted to pop in and share with you a challenge at Die Cut Diva's. This is a site that will challenge you to get out your cutting machines and use them. How often have you thought that you could use your Spellbinders because it is easier and left your Cricuit sitting on the shelf. Now don't get me wrong using your easier cutting machines is great, but sometimes the others get left out. Well that is the case for me! Lol. Well this is the place for you. With so many cutting machines and die cuts to use, you will always have a place to upload your projects at Die Cut Divas! There are some pretty amazing card submissions going on right now in the
Die Cut Divia's Flicker Group
! You have to check out
their blog
as well. Today Paula is featuring some cards from this month's submission and I am so humbled that she featured two of my cards. Thanks sweetie!! So this month's challenge is to make a card showing your style! Well for me I don't truly know. Some of the ladies over there think my style is Vintage with some punch of colour or brightness. Others have said Shabby Chic! I think I am a mixture of many styles. Not really sure which one yet though! Hopefully Mr. Mojo will come back in full force and then maybe, just maybe, I will be able to figure out my style. Lol!
Why not check it out! You can play along too.
There are some prizes up for grabs as well.
I just wanted to say sorry for not getting my Stampin Sister's In Christ card up and also my Mother's Day card that I had to share. Believe it or not both my guys are sick again. No, really! It is depressing to see that my hubby just got over the stomach flu bug and now he is sick with a headcold and sore throat. My son only went back to school yesterday. Been off sick since last Thursday and then with all the rainy weather we have been having, my back hasn't been co-operating very well. So today I awoke with a scratchy throat! I better not be getting what they have!!! Lol! Seems when one gets sick jere, we all do! So on a more positive note, I will be trying to get those cards up later today and hopefully sharing a page that I am finishing for the Hero Arts Scrapbooking Day contest!
Before I go I would like to share that my card got picked as one of the
Fab 4 over at Wee Memories
! I am so excited and can't belive it really! This is quiet the honour for me because the submissions over there are tough and so many wonderful card artist. Thanks so much for picking my card ladies!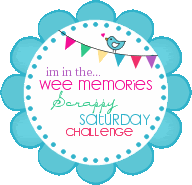 So until a little later, have a great afternoon and I will see you back in a little bit.
Hugs
Dana